Events for Apprentices
East Sussex Apprenticeship Roadshows in March 2018
We are working in partnership with East Sussex County Council to run two apprenticeship roadshow events in March 2018, aimed at young people and their parents/carers. The events will feature apprenticeship employers and training providers, providing up to date information on traineeships and apprenticeships (from pre-employment to higher and degree apprenticeships). The events will take place in two locations in East Sussex:
Eastbourne Town Hall on Thursday 15 March 2018, 17:00 – 19:00, and
Hastings Stade Hall on Wednesday 21 March 2018, 17:00 – 19:00.
Both events will host a marketplace and panel discussions by employers and providers, supported by apprentice ambassadors and independent advice organisations. For further details and to book a place, please see www.c360.org.uk/NAW2018.
Horsham Apprenticeship Fair - 10 March at the Drill Hall in Horsham
A free event about apprenticeships during National Apprenticeship Week.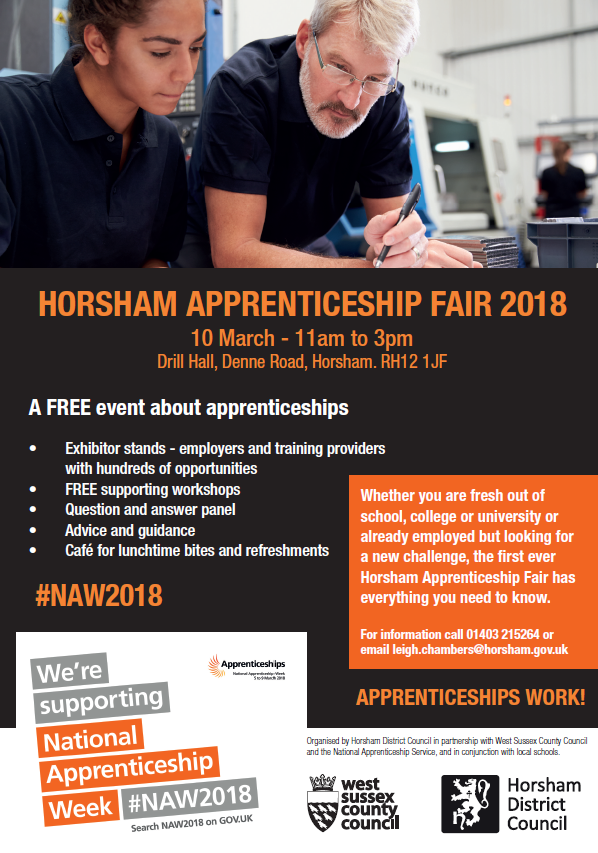 Apprenticeship Ambassador Training
We are training apprentices to act as ambassadors in promoting apprenticeships at school and college career events across East Sussex, Brighton & Hove and West Sussex.
We are looking for current, or recently qualified apprentices with the ambition to inspire others.
You will learn to share your apprenticeship experience, making young people aware of the opportunities out there by talking in schools and colleges.
The training will help you to develop skills in:
public speaking
holding and engaging an audience
answering questions
telling your story
If you are interested and want to find out more, please read 'Be an apprenticeship ambassador', and contact trish.varndall@apprenticeships-in-sussex.com.
Next training:
Friday 17 November 2017 - 10:00 - 13:00 at County Hall in Lewes
County Hall, St Anne's Crescent, Lewes, BN7 1UE
Friday 9 February 2018 - 10:00 - 13:00 (location tbc)
---
Events taking place across Sussex to inspire and inform young people about the apprenticeship opportunities available to them:
Yr 11 careers event - Robertsbridge Community College - 14 Sept 2017
Yr 11 careers event - Dorothy Stringer School - 21 September 2017
Yr 11 careers event - King's Academy Ringmer - 21 September 2017
Yr 11 careers event - Claverham Community School - 3 October 2017
Apprentice panel and careers fair - The Regis School - - 4 October 2017
Yr 11 event - Heathfield Community College - 5 October 2017
Yr 11 event - Patcham High School - 10 October 2017
Yr 11 event - Rye College - 19 October 2017
Careers Adviser event - South Coast Careers Network - 3 November 2017
Year 11 event - Blatchington Mill School - 8 November 2017
Year 11 assembly & workshop - The Academy, Selsey - 9 November 2017
Yr 11 assembly & workshop - Tanbridge House School - 14 November 2017
Yr 11 assembly & workshop - Chailey School - 17 November 2017
Yr 11,12 & 13 workshops - Steyning Grammar School - 1 December 2017
East Sussex careers advisers - 7 December 2017
Yr 11 event - Bexhill Academy - 8 December 2017
Yr 10 assembly & workshop - Cavendish School - 12 December 2017
Careers fair - Chichester High School - 15 January 2018
Year 11 careers fair - Seahaven Academy - 18 January 2018
Year 10 & 11 workshops - Ringmer Academy - 18 January 2018
Year 11 - 13 careers fair - Thomas Bennett Community College - 25 January 2018
Yr 12/13 assembly - PACA - 31 January 2018
Yr 13 careers event - Worthing College - 6 February 2018
Yr 11 assembly - St Catherine's College - 8 February 2018
Careers event - Burgess Hill Academy - 8 February 2018
Yr 9 workshop - St Richards Catholic College - 20 February 2018
Yr 12/13 workshop - Bexhill College - 21 February 2018
Yr 11 assembly - Hailsham Community College - 26 February 2018
Yr 12/13 assembly - UTC Harbourside - 27 February 2018
Yr 12 workshop - Varndean College - 28 February 2018
Yr 12 workshop - Varndean College - 2 March 2018
Careers fair presentations - Bexhill Jobs Fair - 2 March 2018
Yr 11/12 careers fair - Uckfield College - 6 March 2018
Careers day workshops - Sir Robert Woodard Academy - 7 March 2018
Careers Fair - Seaside Community Centre - 8 March 2018
Careers Fair - Hailsham Community College - 9 March 2018
Yr 11 assembly - Varndean School - 12 March 2018
Yr 11 workshop - Heathfield Community College - 14 March 2018
Apprenticeship Roadshow - Eastbourne Town Hall - 15 March 2018
Yr 12 workshop - Shoreham Academy - 20 March 2018
Apprenticeship Roadshow - Stade Hall, Hastings - 21 March 2018
Yr 10 presentations - Davison High School - 28 March 2018
Yr 10 workshop - Dorothy Stringer School - 3 May 2018
STEM careers day - Memorial Gardens, Crawley - 12 May 2018
Careers day - Durrington High School - 16 May 2018
Yr 10 assembly - Priory School - 9 July 2018
Yr 10 workshop - Varndean School - 18 July 2018
Yr 10 workshop - Hove Park School - 22 July 2018