Videos and Resources
This handout from apprenticeships in Sussex provides useful and interesting information on the opportunities, progression and benefits of doing an apprenticeship, as well as helpful next steps and some questions to help you think about whether an apprenticeship might be right for you.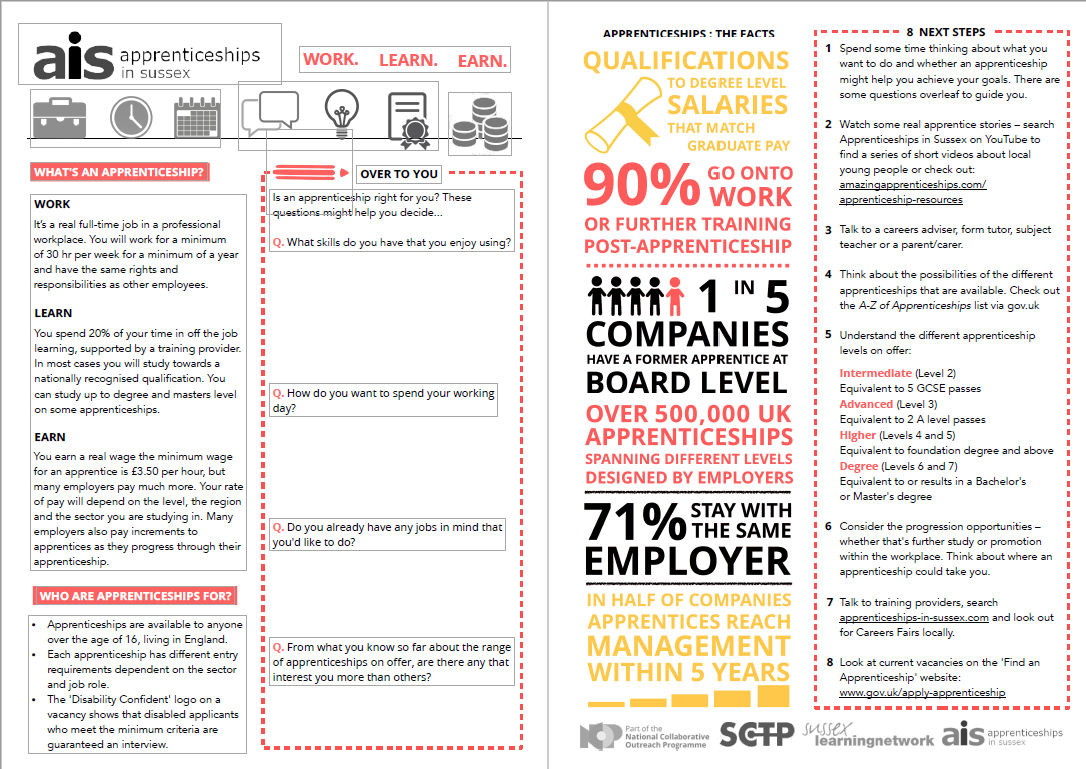 Videos
There are many videos available outlining the benefits of apprenticeships for different age groups, at different levels and across a huge range of job roles and sectors.
Apprenticeships for 16-18 year olds
Here, apprentice Luke explains the benefits of his year-long digital marketing apprenticeship.
Apprenticeships for 19 + year olds
In this video, apprentices Harry and George talk about the benefits they are getting from doing their electrical installation apprenticeship.
Apprentice Cheryl Govey explains a typical day in her apprenticeship in carpentry and why she decided to take on an apprenticeship.
Degree level apprenticeships
Apprentice Jake talks about his apprenticeship to gain a degree in BSc in Digital & Technology Solutions.
To find out more about apprenticeships call 0800 015 0400 or visit www.getingofar.gov.uk and www.findapprenticeship.service.gov.uk.

Traineeship Case Study: Jaguar Landrover
Maera Khan talks about what it's like to be on a traineeship with Jaguar Landrover

More videos about local apprenticeships and pre-employment training can be found on our YouTube channel here and other videos on the National Apprenticeship Service channel here.